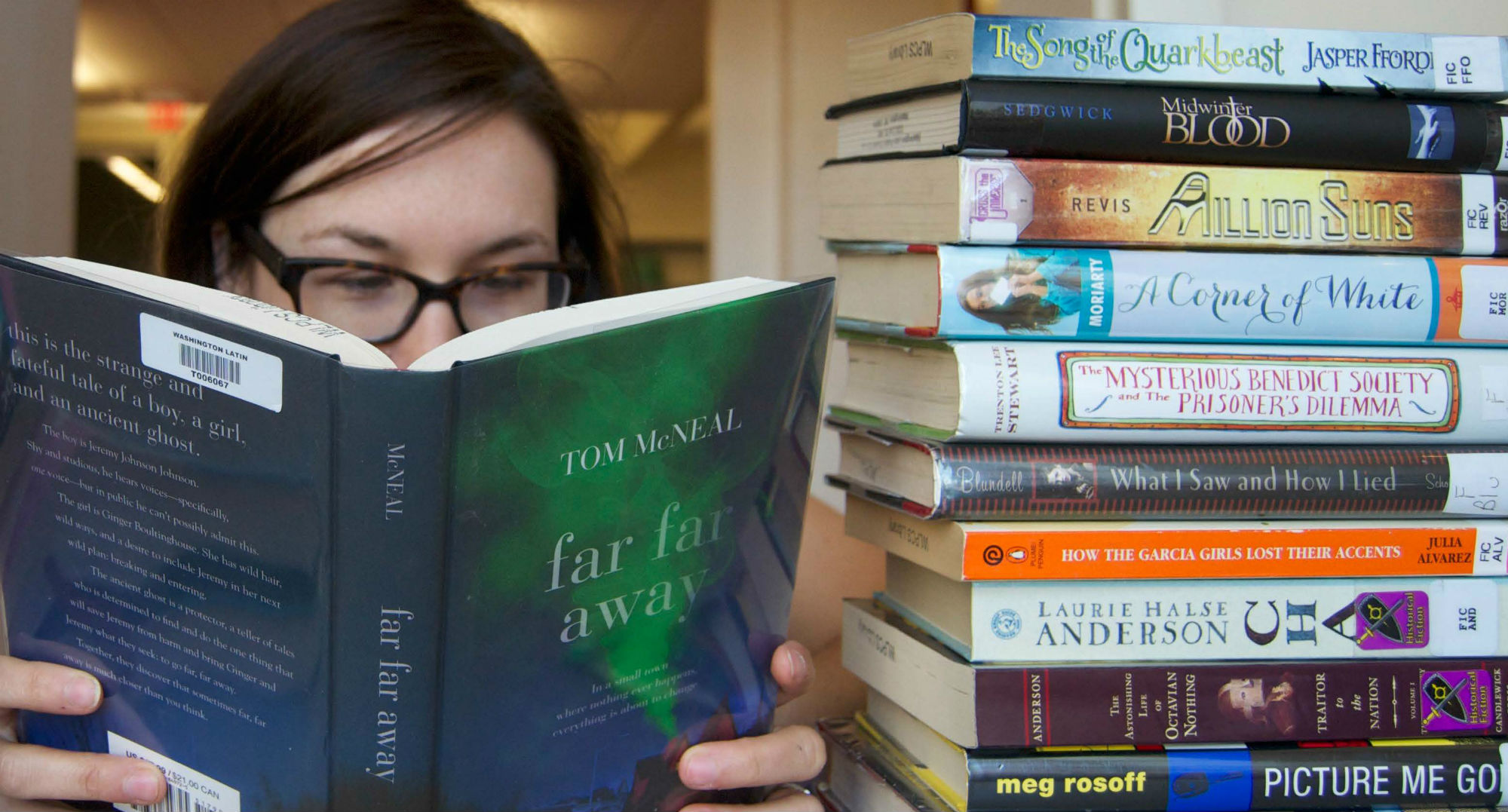 Welcome
The Washington Latin PCS library strives to be the school's center of inquiry and research. An open and welcoming learning environment, the library is designed to be enticing, accessible, and intuitive to all students and staff.   The library program serves the school's mission by providing materials and instruction that support our challenging classical program. Additionally, the library offers curriculum support, collaborative research instruction, specialized space for technology access and meetings, and mixed-use spaces for quiet reading and study, classroom instruction, and small group work. Our full-time librarian, Sereena Hamm, offers unique knowledge for literacy enhancement, sharing the joy of reading fiction and nonfiction books with students.  Please come visit to check out a book or get a reading recommendation, or email Ms. Hamm with any library questions.
Support the Latin Library
Our school is committed to nurturing our students' love of reading and access to quality materials. While many schools are eliminating the library and providing digital book access instead of a common space, we have invested in our library.   You can help! We need more titles to ensure our students can keep reading, whether for school or pleasure.
If you would like to make a book donation, please visit our Library Wish List on Amazon, and be sure to use Amazon Smile for Washington Latin when you make a library purchase (or anytime!)Amazon Foundation will donate 0.5% of every purchase made through this link to our school. Start by opening Amazon Smile, select Corporation of Washington Latin when asked to choose your charity, and save this link to your toolbar. Every time you make a purchase of books or any other product on Amazon, their foundation will make a donation to our school. You shop, they donate!
Any questions about Library donations and support can be directed to Librarian Sereena Hamm or Development Director Kate Cromwell.
Washington Latin Birthday Book Club
Celebrate your student's birthday by donating a book to the library in his or her name.  Your gift will help celebrate your child's special day while building the permanent library collection! To donate, purchase a book from the Amazon Wish List below and then complete the Birthday Book Donation Form!