SCHOOL NEWS
Read about what is happening at Latin!
Teachers and students rocked dress-down ensembles on Friday in preparation for the long weekend. The school-wide celebration was in honor of the hard work and perseverance students showcased on PARCC and their resilience as they head to the final hurdles of the exams. The mental health team also kept the hallways festive this week providing mints, popcorn, tea, affirmations, and suggestions to help stay rested, focused, and calm in the final weeks of the year. 
Head of School Blog
Read Peter Anderson's weekly post for a deep dive into Latin's philosophy, model, history, and more. 
Creativity and an appreciation of the arts are central to the Washington Latin education, and the focus on trying out different artistic media pervades the curriculum. Fifth and sixth graders take theater with Mr. Baldwin. Seventh and eighth graders have art with Ms. Malchionno, theater with Mr. Birkenhead, and the eighth graders can also join choir or jazz band with Ms. VerCammen. Through high school, students continue to pursue arts through photography, and advanced art classes with Ms. Coleman and Ms. Malchionno. Creative writing extends across the curriculum, with opportunities for original writing in various disciplines. Many students also hone their writing skills through work on the school newspaper Sumus Leones and literary journal Open Mic.
As such, it is no surprise that many Washington Latin graduates explore careers in the arts for their careers, building on interests they acquired while enrolled here.  Below is a sampling of some of our alumni doing amazing work in theater, music, film, photography, and journalism.
Class of 2012 graduate Autumn Yancey-Estime works as a Talent Coordinator for Vanguard Management in Los Angeles. She received her BA in Cinema Production from Point Park University in Pittsburgh, PA. She also writes scripts and cultural opinion pieces.
Class of 2013 alum St. Clair Detrick-Jules shared her book "My Beautiful Black Hair" with faculty and families in this year's speaker series. She developed her love of writing in creative writing and English classes at Latin, and refined her craft at Brown University. She is also a filmmaker and her documentary "DACAmented" won awards at several film festivals. To read more about her work, visit her website.
Class of 2015 graduate Emily Hall became enamored with work in the film industry, and is a television post production coordinator and video editor for the Netflix Series "YOU." She is also a video editor for the Tastemade global, digital food and travel network. She previously worked as the post production coordinator for the HBO Max series "Our Flag Means Death." As a student at Washington Latin she started doing her own freelance photography, video and graphic design business, and her work has appeared in Forbes, NBC News, Huffington Post, Photographer's Forum, and Washingtonian magazine. Even when she was in middle school, Emily enjoyed making documentaries about her classes and teachers at Washington Latin, a passion she continued at American University. To see more of her work, visit her website.
Class of 2014 graduate Brandi Clarke enjoyed her work in the school choir with Ms. VerCammen, and is pursuing a career in music.  Since graduating from the College of Wooster in 2018, she has been using the stage name Brandin St. Clair, and she performs live, and has recorded several videos including "Golden Eyes," and "Lioness," available on Spotify.  Clarke performed this past Thursday at the music venue, The Pocket, on North Capitol. Several of her music videos feature her classmates from the class of 2013 and 2014.
The original founder of Washington Latin's school newspaper Sumus Leones, class of 2014 member Cuneyt Dil, has continued to hone his skills as a journalist. After continuing to write for the school newspaper at American University, he most recently is writing for Axios as a Washington DC reporter. Dil covered California and West Virginia state government for the Associated Press, and Washington DC politics and government for the Washington City Paper.   To read some of his recent publications, go to his page on the Axios website.
Several more recent graduates are earning money in the arts while they complete college. Shelby Griffith, a member of the class of 2019, who performed vocals with the Jazz Band at Latin, is studying popular and commercial music at Loyola University in New Orleans and sings backup for rapper Ncognita. She also performs at Tipitinas in New Orleans with an ensemble and performs with a band named Fuse. Hear her recording with the Loyola University musical group Smiling Faces.
Some of our current students have distinguished themselves with recordings that can be found on iTunes and with artwork on display in local galleries. But that can be a topic for another week….
Valete!
Peter T. Anderson
Head of School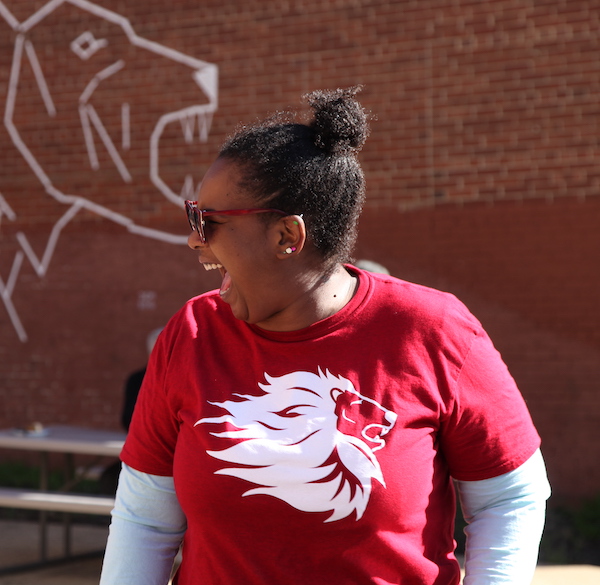 I am delighted to announce that Ms. Khashiffa Roberts has been appointed as the founding Principal of the Washington Latin Public Charter School –The Anna Julia Cooper Campus. As an integral part of the Washington Latin community for more than a decade, Ms. Roberts brings to this new role a deep understanding of and commitment to Latin's classical mission, expertise in serving a diverse population of students and ensuring that they can succeed and thrive at the school, and strong track record of building teams and leading faculty to accomplish challenging goals. Her unique combination of experience and dedication to the Latin way makes her the ideal leader of this new campus.
Ms. Roberts first joined Washington Latin in 2010 as a Special Education teacher, with a degree from Howard University in journalism and a Masters from the University of the District of Columbia in Special Education. After five years supporting our students with disabilities in partnership with both classroom faculty and families, Ms. Roberts began taking on administrative responsibilities, serving as Dean of Students, 12th Grade Director, Director of Special Education, and Assistant Principal for Student Life over the next five years. In each of these roles, Ms. Roberts ensured that the foundational principles of our classical model remained central to our daily work, reflected in our policies and practices and clearly visible in our classrooms and daily life on campus. Her leadership balanced this "big picture" focus with her constant devotion to our students, challenging and supporting them in their academic and personal growth in the Latin community.
Due to unexpected complications with her immigration status and with a goal to ensure a  situation conducive to her eventual return, Ms. Roberts stepped down from her role as the Assistant Principal in late 2019 and returned to her native Trinidad and Tobago, remaining there through the pandemic. Throughout this period, she has stayed in close contact with Latin's leadership, and we remained committed to bringing her back to our leadership team so that our students, faculty and families could benefit from her unique expertise and experience.
In 2021, after hopeful progress was made on her immigration status, she began consulting on a formal basis with our leadership team to plan for the Cooper Campus, including on curriculum development, faculty hiring, and more. She has been instrumental in all aspects of this work, partnering with Principal Emerita Diana Smith, and Director of Strategic Initiatives Caroline Gifford, and with me. While addressing issues related to her immigration status, Ms. Roberts has worked from Trinidad this spring, with the expectation of returning to Washington, DC by the summer to prepare for the August opening of the Cooper Campus. Diana Smith has been an essential partner to Ms. Roberts throughout this planning process, continuing as Ms. Roberts' professional mentor and longtime friend and acting as her eyes and ears on the ground, so to speak, until Ms. Roberts is back in DC. We value having the outstanding leadership and vision of Dr. Smith and are grateful for this partnership in establishing our second campus. Mr. Jimmy Kelly and Ms. Roberts both worked together as Assistant Principals and they have been collaborating over the past few months. They both look forward to a new working relationship in the new year as the principals of our respective schools.
Ms. Roberts will lead a team of faculty that will include a small number of our current 2nd Street faculty and many others hired from other institutions. This mix reflects our philosophy of "seeding" the Cooper Campus with those familiar with the Latin Way and its core tenets, while also establishing this second campus as a community of teachers and learners in its own right. The members of our current faculty who will be joining the Cooper faculty next year include:
Diana Smith, Senior Advisor and Principal Pro Tem (if needed)
Lisa Moore, Director of Numeracy
Carenda Nunn, Dean of Student Life & Culture
Sam Spiegel, Dean of Academic Operations
Joe Starnes, Civics (6th)
Mike Evans, Music (5th and 6th)
Tom O'Brien, Special Education Teacher and Case Manager
JerBria Smith, PE and Health (5th and 6th)
In addition, the Cooper team will have the support and partnership of our senior administration in the centralized roles of finance, development, communications, operations, and technology. Please watch for news of future faculty appointments in the coming weeks.
I hope you join me in celebrating this important news about the Cooper Campus.
Valete!
Peter T. Anderson


Head of School
March is Women's History month, and in the weeks leading up to Spring Break, the school took time in and outside of class to reflect on the contributions and challenges faced by women. In the Daily Bulletin, administrators included facts and quotes about women, from their increased participation in graduate studies to the wage gap.
Sixth graders in Ms. Moten and Ms. Reed's classes are reading the historical fiction book Amal Unbound by Aisha Saeed about a Pakistani girl whose dreams of becoming a teacher are suppressed  when she is forced to stay home from school as her mother struggles with postpartum depression. Later she has to deal with the challenge of indentured servitude in the home of a member of the ruling elite. Amal, who is one of the few literate people in her village, overcomes these challenges through wit and wisdom. Some sixth graders  are also reading I Am Malala to complement this text. Students have studied the life of this Nobel Laureate and women's education advocate and have also learned about the first female Prime Minister of Pakistan, Benazir Bhutto.
In seventh grade Ancient Civilization, with Mr. Wills, students are learning about female inventors, business leaders, politicians, explorers, and engineers. They have read about the 19th amendment to the U.S. Constitution, giving women suffrage and Title IX, which prohibits against sex-based discrimination in education. Students also learned about Egyptian Queen Hatshepsut, who expanded her country's trade routes throughout the Northern and Eastern regions. Students read about Tabitha Babbitt who, in 1812, invented the circular saw, Nancy Johnson, who invented the ice cream maker in 1824, and Ada Lovelace, who invented the first computing algorithm in 1843. Students have also learned about modern women entrepreneurs, film makers, and journalists.
In eighth grade, in Ms. Haywood and Ms. Breitman's English classes, students are finishing up a memoir unit, examining lives of many luminaries including soccer star Megan Rapinoe and supreme court justice Sonia Sotomayor. They are analyzing how the authors reflected on the choices they made and how they handled setbacks and challenges.
In the upper school, Mr. Day's AP Language and Compositions students watched, read, and discussed Chimamanda Ngozi Adichie's We Should All Be Feminists, and also had a conversation about transgender identities in response to some comments the author made in an interview a few years ago. The book deals with the experiences of the Nigerian author and her studies about economic power and gender.
Meanwhile, in Ms. Hamd's World History II class, students are wrapping up a unit on the Black Panther Party and are focusing on a different key female Panther each day. Students learned about Elaine Brown, who was the Chairwoman of the party from 1974-1977 and who also served as the Minister of Information for the Party. Students watched the documentary "Vanguard of the Revolution," about the Black Panthers.
And, last night our most recent guest in our Distinguished Speaker series was Stacey Samuel, one of the few African American women in a management position in the news media. See Speakers page for the recording.
The rich tapestry of readings in the various classes this year help students gain access to unique and diverse perspectives and experiences of women around the world. As we close this month, I hope you can reflect with your children over Spring Break about some of the inspiring women they have read about this year.
Valete!
Peter T. Anderson


Head of School
Latin in the News
Read the latest media stories about our school.
Who Should Provide Care For Students With COVID Symptoms In D.C. Schools?
PART OF
FULL COVERAGE OF CORONAVIRUS IN D.C.
Martita Fleming keeps things running at Washington Latin Public Charter School. As director of operations, her job encompasses a lot — she makes sure classes have textbooks, that lights stay on, and the copier is running.
Fleming's responsibilities expanded further when Washington Latin fully reopened for in-person learning last month. She and a small team of school deans and teachers oversee coronavirus testing and screening of students, and they monitor students who are isolating.
In short, Fleming is managing the school's COVID-19 response almost entirely without help from a school nurse.
"It's definitely a lot of effort and hours," she said.
That's because school nurses hired by the city are not allowed to monitor or treat students exhibiting COVID-19 symptoms, according to accounts from several school leaders. It has put administrators in the difficult position of deciding who should respond to students with symptoms inside their buildings. READ MORE