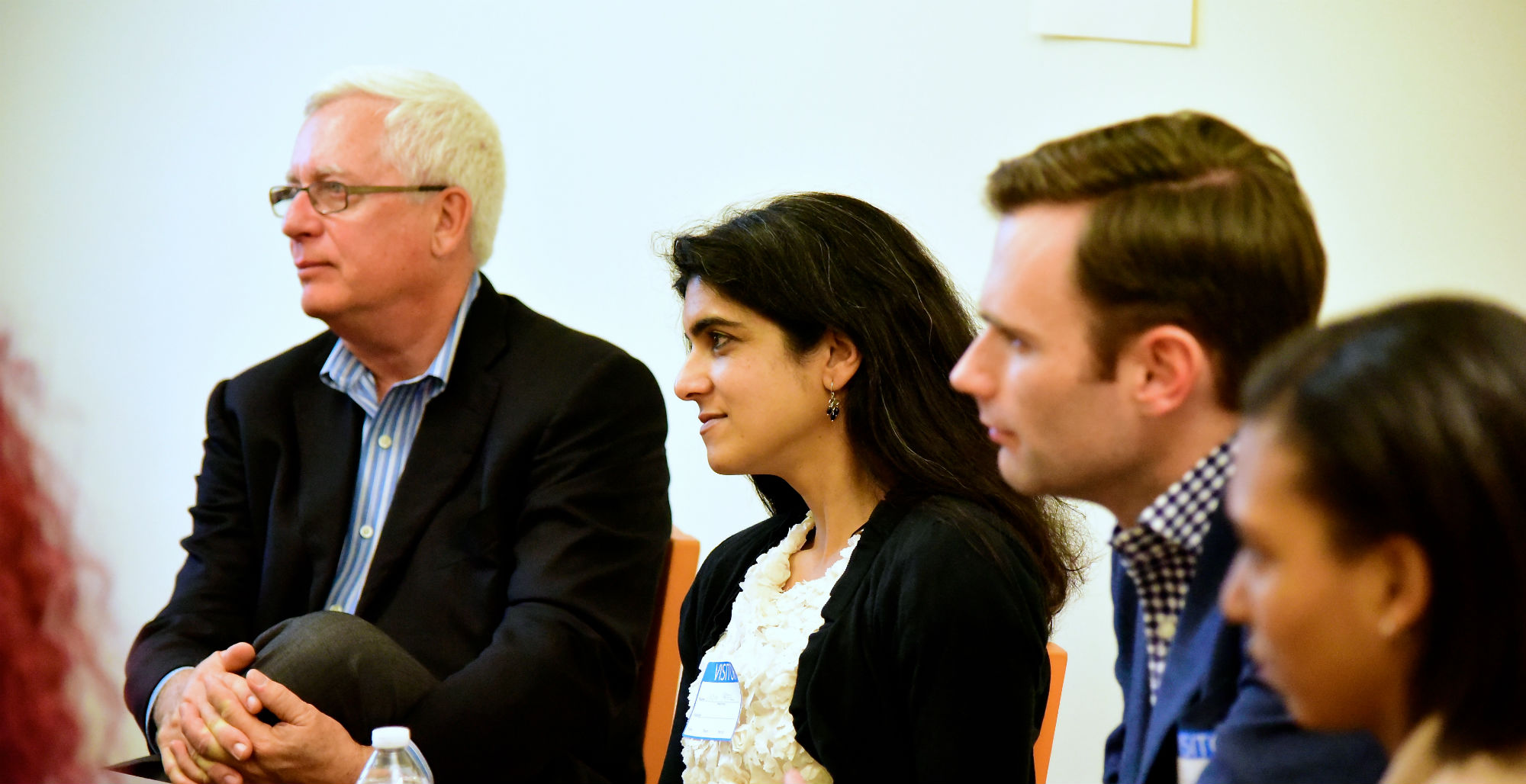 Charter Authority in DC
Washington Latin Public Charter School is authorized by and accountable to the District of Columbia Public Charter School Board (
DCPCSB
). This board evaluates all DC public charter schools for academic results, compliance with applicable local and federal laws, and fiscal management.  We are held accountable to the PCSB for our results and the goals established in our charter agreement. Washington Latin is ranked Tier One (see
Our Results
for more detail).
Washington Latin Board of Governors
Washington Latin is governed by an all-volunteer board, responsible for oversight of the school's academic and fiscal well-being. Our Board of Governors is comprised of a maximum 15 members.  The Board currently includes four parents of Latin students, who bring this important perspective to our discussions about the school's current work and future direction. There are seven Board-led committees, and the full Board meets eight times per year.  If you have questions about the board, please contact
Peter Anderson
, Head of School, or
Chris Wilkinson
, Board President.
Christopher Wilkinson, President
Christopher Wilkinson is a partner at Orrick, maintaining a broad practice in labor and employment, Equal Pay, health and safety, government relations and administrative law. Chris most recently served as Associate Solicitor for Civil Rights and Labor-Management. In that role, Chris was the senior career civil rights and labor management lawyer for the Department of Labor providing advice on regulatory, policy and enforcement matters for seven DOL agencies including the Department's Office of Federal Contract Compliance Programs, Civil Rights Center and Office of Labor Management Standards. Chris is an active member of the America Bar Association, having presented on numerous federal contractor compliance, LGBT and compensation discrimination topics at the ABA Conference on Equal Employment Law.
Ragini Dalal, Vice President
Ragini Dalal has worked in international development for over 20 years, from grassroots non-profit work to policy and corporate settings. She has lived and worked in Africa, Russia, and the Middle East. Ragini is currently a lead strategy and operations officer at the World Bank and is responsible for monitoring global investments in projects which provide access to water and sanitation to the developing world. Other positions she has held at the World Bank include deputy to the country director in Kenya overseeing an office of over 100 staff and a $2 billion portfolio of investments, and as an advisor to the World Bank's Board of Executive Directors. Prior to the World Bank, Ragini worked as an advisor at the Harvard Institute for International Development working on the privatization program in Russia and with various DC-based NGOs. Ragini's two children have both attended Latin. She has been active in DC public schools and the charter school movement since 2001 as a parent and serving in a variety of voluntary positions, and is a member of the Charter Board Partners network. Ragini holds a Bachelor of Arts from Colgate University and a Master of International Affairs/Economic Development from Columbia University. She joined the board in July 2015.
Timothy Morgan, Treasurer
Tim Morgan has broad experience in matters of risk management and governance, quality, and finance gained from over 35 years as auditor, advisor and Board leader. He retired as a partner with PricewaterhouseCoopers LLP in 2014, having served as the firm's Public Sector Risk and Quality Leader and as an auditor and advisor to federal agencies and diverse public and private companies. PwC's Public Sector Practice won the Malcolm Baldrige National Quality Award in 2014. Tim served for eight years on the Board of Trustees of the American Kidney Fund (kidneyfund.org) and was Board Chair and Chair of Audit Committee. Tim is a graduate of the University of Virginia's McIntire School of Commerce and is a Certified Public Accountant. Tim joined the board in September 2015.
Laurie Ballenger
Laurie Ballenger is General Counsel to The Donohoe Companies, Inc., one of the DC region's largest real estate companies, and is involved in all aspects of the company's real estate and operating businesses. She has over 20 years of experience in commercial real estate law in both private practice and as a corporate executive. Prior to joining Donohoe, she practiced commercial real estate law with the firms of Bregman, Berbert, Schwartz & Gilday, and Pillsbury Winthrop Shaw Pittman, and also served for nine years as General Counsel to The Artery Capital Group, LLC, a privately-held commercial real estate company. Laurie and her husband have five children, four of whom are students at Washington Latin. She joined the board in 2018.
Barry Caldwell
Barry Caldwell has had a long career in business as a C-Suite Public Affairs & Communications, Human Resources, and Legal executive. He recently stepped down as Waste Management's Senior Vice President for Corporate Affairs and Chief People Officer, responsible for leading the company's human resources, state and federal policy, corporate communications and community relations, and aviation. Prior to joining WM, Barry was the Vice President for Government Relations for CIGNA Corporation. Previously, he was Vice President of Federal Affairs for the Pharmaceutical Research and Manufacturers of America and Chief of Staff to US Senator Arlen Specter. Barry began his professional career practicing law with two Washington, DC law firms. He also benefits from significant board service on several nonprofit organizations and trade groups. Barry holds an AB from Dartmouth College and a JD from Georgetown University Law Center, and is the father of three adult children. He joined the board in 2018.
Alyse Graham
Alyse Graham is a teacher and lawyer with broad public sector experience. Alyse graduated from Yale University and received her law degree from Stanford Law School. She served as a prosecutor for the U.S. Department of Justice and the U.S. Attorney's Office for the District of Columbia, and she has taught criminal law and criminal procedure at George Mason University Law School and American University School of Law. Five years ago, Alyse joined Teach for America and became a teacher at Everett Middle School in San Francisco. She taught science and social studies in both Spanish and English as part of the school's dual immersion curriculum, and served on the school's Parent Engagement Committee. Alyse has also served on the Superintendent's Committee on Equity for the San Mateo Foster City School District and consulted to Amplify, a national curriculum developer, on a new NGSS-aligned K-8 science curriculum. Alyse is a native Washingtonian who lives here with her husband and three children.
Kenneth Merritt
Kenneth Merritt is a partner at DayBlink Consulting, a private firm focused on helping businesses manage change and grow. Ken has over twenty-five years of progressive leadership experience in strategy and transformation across multiple industries, types of organizations, and business functions. His specific transformation expertise is designing & delivering enterprise effectiveness & efficiency. Kenneth has also served as a Board Director for both a private operating company and not-for-profit organizations.Ken joined the Washington Latin Board of Governors in the fall of 2019.
Patrick Mara
Patrick Mara is Executive Director of the DC Republican Party. Prior to his position at the DC GOP, he was elected to the DC State Board of Education (SBOE) in 2010 and served a four year term representing Ward 1. During this period, Patrick also focused on small business development and related consulting. He previously worked on Capitol Hill for the late Senator John H. Chafee (R-RI); at the U.S. Department of Energy as a contractor; and later lobbied both the Legislative and Executive branches of the Federal government for seven years. Over the last decade, Patrick served on the Boards of numerous local non-profits devoted to supporting the educational needs of District children and long-term tutored and mentored a number of DC Public School students. Before earning an entrepreneurship-focused MBA from Babson College, Patrick graduated from Marist College where he is a past President of the Alumni Executive Board and past Board of Trustees alumni representative. He and his wife live in the Columbia Heights neighborhood of Ward 1 with their two sons. Patrick joined the board in March 2015.
Caitlin McGurn
Caitlin McGurn is a partner with Guidehouse in the Financial Services practice. Caitlin graduated from the University of Notre Dame in 2003 with a Bachelor's degree in accountancy and from Boston College in 2004 with a Master of Science in accountancy. She began her career with PwC in Boston and spent the early part of her career performing financial statement audits of commercial entities. Caitlin moved to DC in 2005 and focused on providing risk, governance, internal controls, and financial reporting advisory services to public sector entities. Caitlin remained with PwC until May 2018 when PwC Public Sector was sold and became Guidehouse. Caitlin's clients include the US Department of Education, among other entities in the public sector and higher education finance. Caitlin is a Certified Public Accountant (CPA) in VA and DC, a Certified Information Systems Auditor, and a Project Management Professional, and is the mother of two children.
Kimberly Osagie
Kimberly Osagie is a partner with Promise54, an organization devoted to working with educators and educational organizations to deliver on the commitment of the 1954 Brown v. Board of Education ruling that deemed education a right that must be made available to all on equal terms. Kimberly is: a Nigerian woman — replete with Louisiana charm and an NYC-inspired sense of bravado. Warm temperatures, spicy cuisine, quality over quantity, and a sense of style are just a few of her everyday loves. For an easy in, start a conversation with Kimberly about the songs you hum in the shower, the live theater that most impacted you, or the guiltiest television pleasure you can't live without. Kimberly brings all of these quirks to her work in education, striving to build equitable learning environments for children and the adults that model for them. Kimberly brings multifaceted expertise from leadership roles in traditional and charter public schools, higher education, nonprofits, philanthropy and corporate organizations, including roles as Vice President for Educator Success at Curriculum Associates; K-12 Education Program Officer at Walton Family Foundation; Lead K-12 Equity Consultant at Harvard Graduate School of Education and Harvard Business School's Public Education Leadership Project; and Associate Dean, Assistant Professor of Practice, and Director of Teaching & Learning for Diversity & Child Development at Relay Graduate School of Education. Kimberly holds a dual, Distinguished Majors BA in Political and Social Thought and English from the University of Virginia, a M.S. in Teaching adolescent English from Pace University, and a doctorate in Education Leadership from Harvard University.
Hunter R. Rawlings
Hunter R. Rawlings III
is the interim President of Cornell University, his third turn as the University's leader. Until July 2016, Hunter served as the President of the Association of American Universities, a position he took in 2011. Prior to this position, Hunter served as president of Cornell University from 1995 to 2003, and as interim president for one year between 2005 and 2006. He served as president of the University of Iowa from 1988 to 1995.
As president of Cornell, Hunter provided strong support for continuing to increase student diversity and for Cornell's need-blind admission policy, which was made permanent during his tenure. He also renewed Cornell's emphasis on the importance of undergraduate teaching, setting an example by teaching an undergraduate course in the Department of Classics during the last two years of his presidency. Hunter set strategic scientific priorities for Cornell, resulting in, among other things, the Cornell Genomics Initiative and New Life Sciences Initiative. Hunter also reorganized the biological sciences on the Ithaca campus and set in motion the plans for constructing a pioneering facility for life science technologies. At the same time, he provided additional support for the programs in the humanities and social sciences at Cornell, recognizing their critical significance for the future of human societies in a rapidly changing scientific and technological environment.
While president at the University of Iowa, Hunter chaired the Governor's Commission on Foreign Language Studies and International Education from 1988 to 1991. He also oversaw major research enhancements, particularly in the Life Sciences and the College of Medicine. Prior to the University of Iowa, Hunter spent 18 years at the University of Colorado at Boulder, where he was a faculty member, Chairman of the Classics Department, Associate Vice Chancellor for Instruction, and then Vice President for Academic Affairs for the University of Colorado system.
A national spokesperson for higher education, Hunter has served as chair of both the Association of American Universities and the Ivy Council of Presidents. He is a member of the American Academy of Arts and Sciences, and he serves on the boards of the American School of Classical Studies in Athens, Haverford College, and the National Academy Foundation. Born in Norfolk, Virginia, Hunter graduated from Haverford College with honors in Classics and received his Ph.D. degree, also in Classics, from Princeton University. His scholarly publications include a book, The Structure of Thucydides' History (Princeton University Press, 1981). Hunter joined the board in September 2015.
Lisa Gail Rucker
Lisa Gail Rucker brings more than 25 years of experience in the fields of grants management, youth and adult education, training, organizational development, and nonprofit leadership.  She has worked to create community- based programs and city-wide systems to help youth and adults obtain the education, training and other services, opportunities and supports needed to succeed in life.  Lisa served most recently as is the Director of the Center for Youth Development at United Way of the National Capital Area and was the founding manager for LEARN24's (the District of Columbia's Out-of-School Time Network) Institute for Youth Development at the University of the District of Columbia. Before joining the United Way of the National Capital Area, Lisa was the founding Director of the Center for Excellence in Youth Development at the DC Trust. Before serving in this role, Lisa led the Literacy Initiatives at the DC Trust, including the Lifelong Learning Initiative. Lisa has also worked at Friendship House, where she was Director of Community Services and Community of Hope where she was the Youth and Adult Education Program Manager. Lisa completed her master's degree coursework in International Education and Training at the School for International Training in Brattleboro, Vermont, a Graduate Certificate in Adult Education from the University of the District of Columbia, and received her BA from the University of Virginia. She has taught SAT, ESL, and GED courses both in Africa and the US, and worked with at-risk youth at Upward Bound and the Freedom Youth Academy. Lisa resides in Columbia Heights with her husband Souleymane Diallo and their five children, four of whom attend Washington Latin. Since joining our community, Lisa has been an active volunteer at the school as well as at Capitol Hill Montessori School, as well as serving on the DCPS Special Education Parent Advisory Board and working with the parent advocacy group Parents Amplifying Voices Everywhere (PAVE).