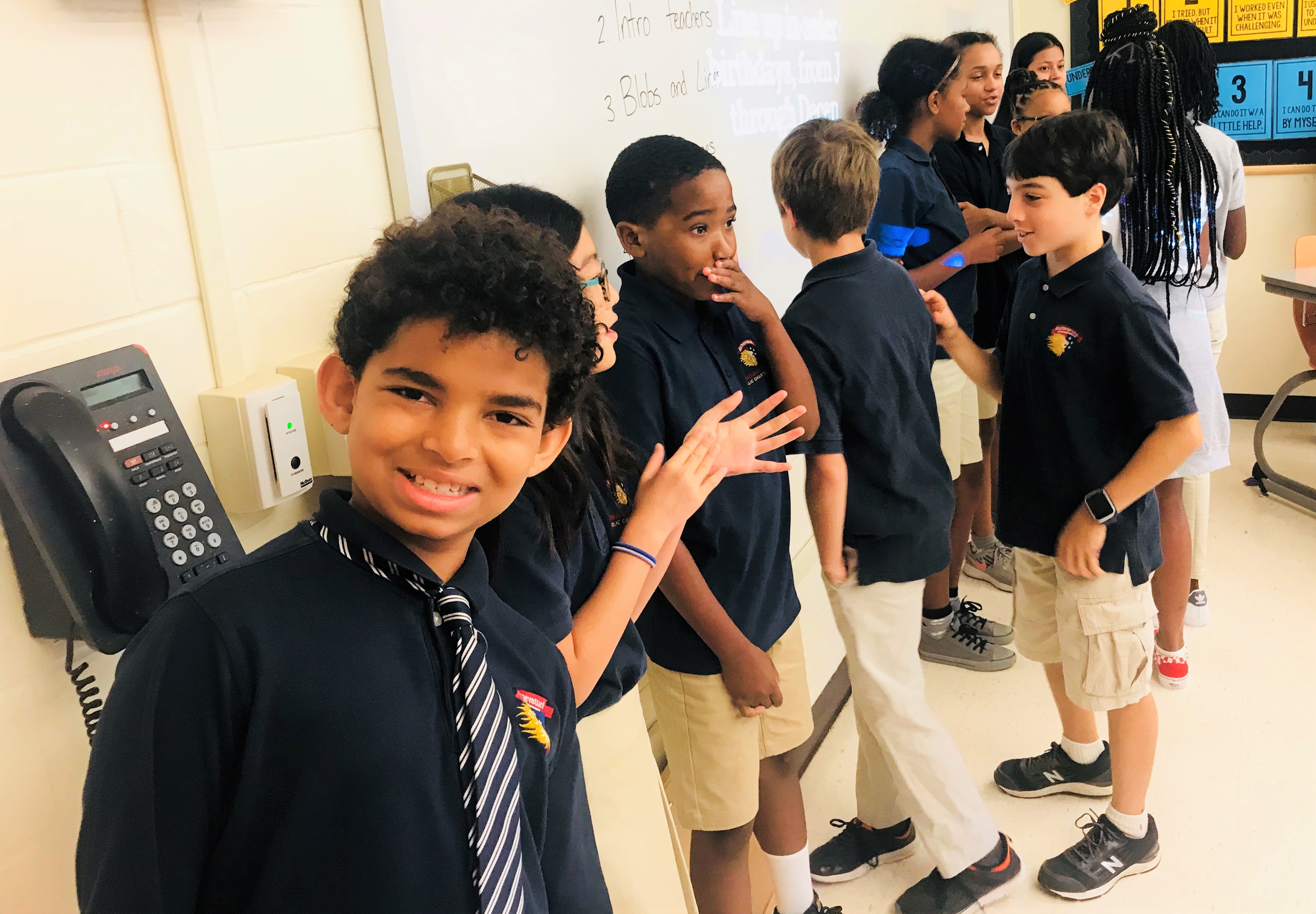 Washington Latin is a liberal arts, college preparatory school with a classical mission serving 700 students in grades 5-12 from across the District of Columbia. We believe that all students deserve a quality education that goes beyond preparation and focuses on developing knowledge, understanding and humanity. Ours is a school where words matter, ideas matter, and people matter.
You are a master of your field, a curious lifelong learner, and someone who loves working with and for kids.
We are looking for candidates who:
Want to work in a non-selective urban school with a diversity of students
Are familiar with and support our classical mission
Like and respect young people from the ages of 10 – 19
Are willing to give of themselves wholly to their job
If you are interested in joining our faculty, leadership/administrative team, or working as a substitute, please fill out an initial application here. If you have any questions, please contact jobs@latinpcs.org.
Positions available as of July 2020
Director of Development
Full-time, 12-month position
Start Date: Immediate
Reporting to and working in close collaboration with the Head of School (HoS), the Director of Development will refine and execute the existing comprehensive development strategy for Washington Latin. Using this strategy, the Director of Development will provide leadership to identify, cultivate, and secure major gifts from institutional and individual donors in support of the school's $12 million capital campaign to launch a second campus. The Director of Development will work closely with the Washington Latin Board of Governors to leverage their networks, develop them as advocates, and support overall board development. READ MORE
School Psychologist
Seeking an experienced school psychologist to provide counseling, direct and group instruction for students struggling with social, emotional, and behavioral challenges to improve achievement and promote well-being. READ MORE
Case Manager/SPED Teacher
Full-time, 10-month position
Start Date: August 2020
The successful candidate will demonstrate an ability to work with a range of students, parents, and fellow faculty within a diverse community and at times demanding environment in order to foster the intellectual and personal growth of students with learning disabilities. READ MORE
Dedicated Aide
Hiring 5 aides for 2020-21
Full-time, 10-month position
Start Date: August 2020
Working with an instructional team consisting of the lead teacher and a special education teacher, the dedicated aide provides individual instructional support for students with Individualized Educational Plans (IEPs) under the direct supervision of the lead teacher. The Aide aims to foster the intellectual and personal growth of students struggling with social, academic, or emotional issues that affect their achievement, involvement in the life of the school, and overall well-being and development. READ MORE
Technology Coordinator
Full-time position
Start Date: Immediate
Reporting to and working in close collaboration with the Director of IT, the Technology Coordinator will understand and follow the mission of Washington Latin Public Charter School; cultivate the use of technology within the school community; provide technology support to students, faculty, and staff; and foster the intellectual and personal growth of students. READ MORE
Substitute Teachers (all grades)
Substitutes for various subject are needed for grades 5-12 on an ongoing basis. Substitutes are responsible for managing the classroom goals, expectations, and directives of the absent teacher for a given period or on a given day. APPLY