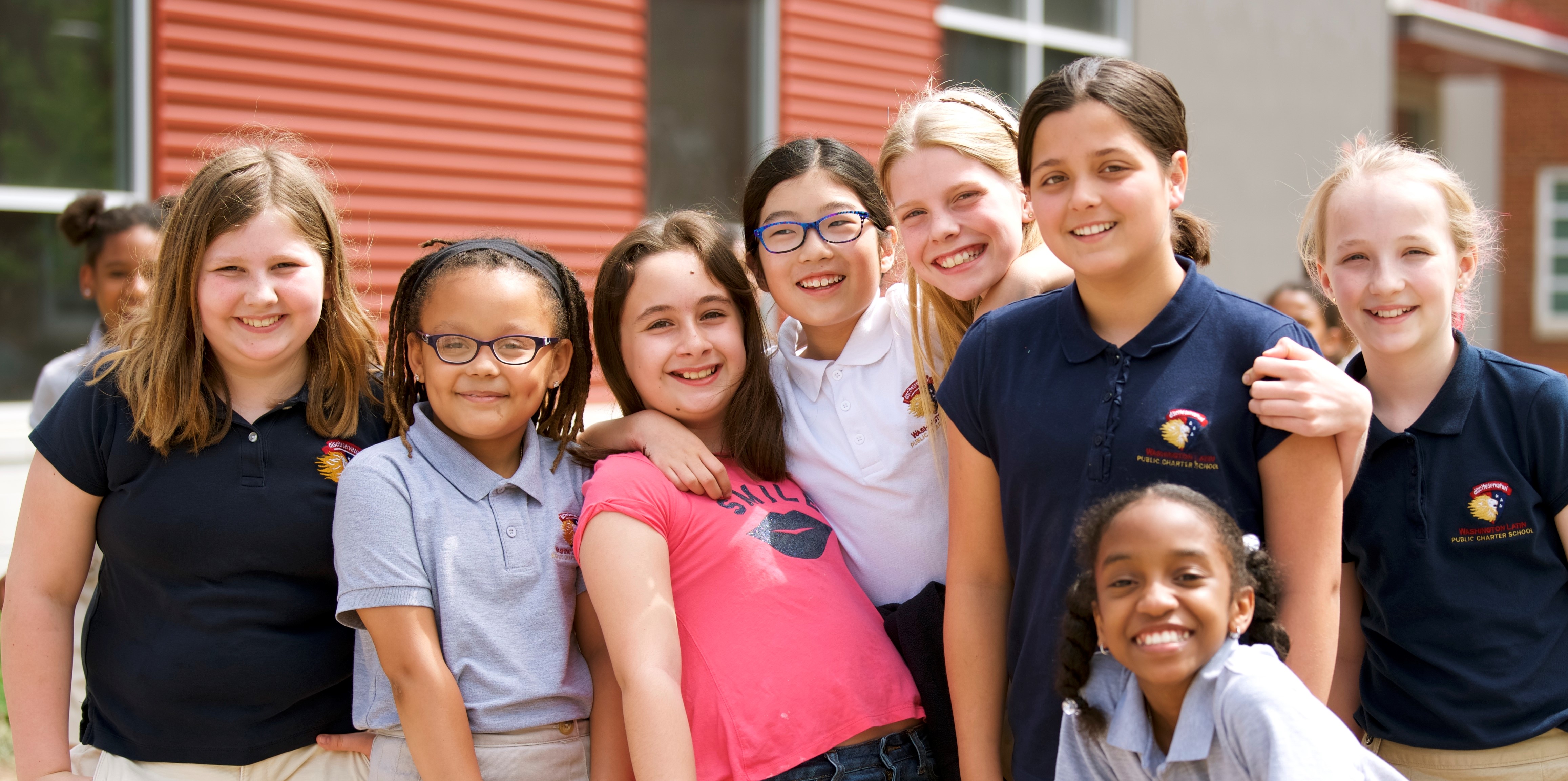 Welcome, Cooper Families!
This page is your go-to for information you need about Washington Latin's Cooper Campus. From policies to our faculty directory and news, you will find it here! Check back frequently for updates.
Summer Orientation - August 2-12, 9:00-12:00
This summer, we invite and strongly encourage all Cooper students to join us for a two-week summer orientation. As a brand-new school, this time together is very important for building our community and culture. We have planned a variety of activities for our students during these two weeks that we hope will be a meaningful and fun inaugural experience that will begin building our school community together. Our goals for this program include:
To build our culture and community. Teachers and students get to know one another and the local community. We want to help staff and students feel safe, seen, and valued as humans from the very beginning. This is the most important goal.
To establish expectations for shared spaces and for routines
To orient students to the bedrock principles of the school
To conduct diagnostic testing to establish benchmarks in core subjects and begin to develop an understanding of our students and provide individualized support, as needed
These days will introduce our Cooper students to our classical education model and to the Cooper teachers and fellow students. Each day will be a mix of activities including workshops in the classical education values, benchmark testing in Math and English, community building activities, and fun and games.
Diagnostic Testing Information
Washington Latin will use a variety of standardized assessment tools to get initial data on our students' reading and math levels. We will also administer a survey on their social-emotional well-being. Each of these takes about 75 minutes and will be administered on different days, so students get a break in between. Our team will use this information to get to know our students as scholars and individuals, so that we can provide them with the kind of tailored student support that is central to our model, even before the school year officially begins.
Other Activities
While the initial academic testing is important, there will be plenty of other activities as well as these benchmark tests. The days will by no means feel like "regular school." Instead, each day will have a mix of activities, including academic, social/community, and play. Here is a sample schedule:
9:00 – 9:30 – All community meeting to introduce teachers, school routine/schedule, and the Principal's Principles
9:30 – 10:30 – Team building in Advisory with fellow students and Advisor
10:30 – 10:45 – Recess and play!
10:45 – 12:00 – Benchmark testing (two days) OR Workshops
12:00 – Dismissal
Workshops will focus on our classical mission and model, discussing how to have dialogue respectful of diverse perspectives, what it means to have a healthy mind, body and spirit, etc.
Our orientation plans also include community-building activities, such as creating a mural together, a field trip to a local regional park for orienteering, a shared a community service project, and an all-school picnic. All activities will be led by the Cooper faculty, who will be at the school for this orientation period every day. More details will follow about specific activities, but for now please mark your calendars!
Orientation Logistics
Uniforms – These will be required during orientation. Please visit the Cooper Families page for details on the general requirements and where to purchase them. Note that we will have a mini sale of the Parent-Faculty Association used uniforms in August at the Cooper Campus. This is a great way to purchase gently used uniforms for just $3 each! Details to follow.
Transportation – Our Latin bus service will not be up and running for these two weeks. We will however ensure that all students receive their Kids Ride Free card to use on Metro and DC buses.
We hope that every student will be able to join this important time, though we also realize that there may be logistical challenges to doing so for some of our families. If this is the case, please contact Principal Roberts as soon as possible to discuss the options.
We are excited to begin our work at the Cooper Campus with you and your children!
Uniform Policy & Purchasing
Washington Latin believes that appearance is important and requires students to meet the highest standards of dress and deportment. We see families as our partners in ensuring that students come to school each day as a representative of our school community.
We require all students to wear uniforms and adhere to the Uniform Policy at all times while in the school building and at school-sponsored functions. Students' personal presentation should reflect modesty, neatness, and cleanliness. Students are not to wear hats or other headwear except as medical reasons or personal religious beliefs dictate.
All Washington Latin administration and faculty strictly enforce the following Uniform Policy. Failure to adhere to the Uniform Policy will result in strategic intervention or disciplinary action; chronic non-adherence may lead to additional discipline action. Washington Latin reserves the right to change this policy as needed.
Daily School-wide Uniform
Uniforms are to be worn with careful attention to proper presentation, appearance, and sizing. The basic Latin uniform consists of khaki (tan) bottoms and a collared white, gray or navy shirt with the Latin logo. Please see the following list of acceptable items and other notes.
Shirts
A navy, gray or white long- or short-sleeved polo shirt with school logo.
You may purchase plain white, gray or navy polos from any store of your choice. This can be with a patch you sew on yourself (available at the Latin store) or a logo added by G-Land for a small fee.
Juniors and Seniors may wear a plain white, gray or navy, long- or short-sleeved collared shirt (professional wear).
Sweaters/Sweatshirts
Students may wear navy, gray or white sweaters and sweatshirts with the Latin logo in the building.
You may purchase navy sweaters/vests/cardigans from any store of your choice and then add the logo. This can be with a patch you sew on yourself (available at the School Store) or a logo added by G-Land for a nominal fee.
Pants, skirts and dresses, and other bottoms
Khaki (tan) pants, shorts or skirts. Shorts and skirts must not be shorter than 1-2" above the knee. Variations of brown and olive green are not allowed.
Khaki pants, shorts or skirts may be purchased from a store of your choice. G-Land and Land's End offer them, but you do not have to purchase from them.
Students may wear solid leggings or tights in navy, gray, white, or black with shorts and skirts. Fishnet leggings and stockings are not allowed.
Students may wear a navy polo dress with school logo (available through Lands End only).
Also allowed are khaki jumpers with school logo, worn with a collared shirt underneath.
Outerwear – Sweaters, Sweatshirts, etc.
Students may wear outerwear that has the school logo in navy, gray, or white. The gray sweatshirt with LATIN in red (available at G-Land Uniforms) is also permitted.
Gloves, outerwear, hats, skullcaps, and head wraps must be removed once students enter the building, except as medical reasons or personal religious beliefs dictate.
Footwear
Students must wear closed-toe shoes. Slip-ons or open-toed sandals are not allowed. Shoes and socks should be school appropriate. Beyond this, there are no specific restrictions on color, etc.
Purchasing Uniforms
Latin uniforms are available from the following vendors. Every item that you find in our sections with these vendors has been pre-approved by the school.
G-Land – G-Landuniform.com or at their store (G-Land 1516 Wisconsin Ave NW in Georgetown)
Flynn and O'Hara – https://flynnohara.com/shop/washington-latin-public-charter-school-dc036/
Lands End – landsend.com/school select "Find Your School's Dress Code."
Logo Patches
You can purchase logo patches to sew onto plain polo shirts, jackets, sweaters, etc. These will be available at the start of school events and throughout the year online at the Latin store.
Used Uniforms – $3/each
The Parent-Faculty Association has created a low-cost used uniform exchange. For a nominal contribution to the PFA, you can add to your child(ren)'s wardrobe and save the planet!
Sales are ongoing throughout the year and most active at the start of school. You can purchase used uniforms at these events or by reaching out to volunteers via email.
Payments can be made with cash, check or through PayPal on the Latin store.
Physical Education and Athletics Wear
Students are required to purchase their physical education uniforms: a gray Latin shirt, cardinal Latin mesh shorts, gray Latin sweatshirt, and gray Latin sweatpants. The sweatshirt may also be worn during school and in the classroom. Families need to purchase all items only from G Land Uniforms or at the PFA Used Uniform store.
2022-2023 Calendar Summary
August
8/2-12 Student Summer Orientation
8/21 Back to School Get Together (@ Second Street Campus)
8/24 Advisor conferences @ Cooper
8/23 Family social 6:00 pm @ Cooper
8/25 First Day of School
September
9/5 School Closed: LABOR DAY
9/8 Back To School Night @ Cooper!
9/26 Invitation-only Conferences (IN PERSON); Asynchronous Day
October
10/10 School Closed: INDIGENOUS PEOPLES DAY
10/28 End of Q1 PD Day* No classes
November
11/8 Election Day/Asynchronous Day
11/11 School Closed: VETERANS DAY
11/21-22 Parent-Teacher Conferences (VIRTUAL); Asynchronous Days
11/23-25 School Closed: THANKSGIVING BREAK
December
12/19-30   School Closed: WINTER BREAK
January
1/3 Classes Resume
1/20 End of Q2
1/16 MARTIN LUTHER KING, JR.DAY/Community Service Day; No classes
1/27 Asynchronous Day
February
2/10 PD Day; No classes
2/20 School Closed: PRESIDENTS DAY
2/21 Asynchronous Day
March
3/3 Invitation-only Conferences (IN PERSON); Asynchronous Day
3/24 End of Q3
3/27-31 School Closed: SPRING BREAK
April
4/7 Asynchronous Day
4/17 School Closed: EMANCIPATION DAY
4/21 Asynchronous Day
May
5/5       Invitation-only Conferences (IN PERSON)
5/29     School Closed: MEMORIAL DAY
June
6/6 Valediction – Last Day of 2022-23!
*PD Day means Professional Development Day (workday for teachers, no class for students)