SCHOOL NEWS
Read about what is happening at Latin!
Ms. Grant took sections of DC History on a walking tour of U Street and to the MLK library on Friday, May 13. Other stops included Ben's Chili Bowl and other historical spots along the way. Students also visited a Metro PCS store in Shaw that has been playing go-go music since 1995.  The trip gives a taste of the history and culture of the U Street area and explains how the area has developed and changed over the last 60 years.
Head of School Blog
Read Peter Anderson's weekly post for a deep dive into Latin's philosophy, model, history, and more. 
Our last year on the 16th Street campuses was one of major transitions. Teachers knew the school was bound for a bigger and permanent address after six years in temporary spaces in churches, a house, a trailer and a Sikh center. Still, during the 2012-2013 year, teachers were wistful about parting from the non-traditional spaces that had become our "homes" on Decatur, Allison, and Upshur Streets NW.
Upper School French teacher Ms. Karen Lambert had taught for several years in public schools before taking a lengthy maternity leave, then joining Washington Latin in 2011. She said she found the Decatur campus intimate and upbeat, even though her room was so tiny that she couldn't have the classroom and closet doors open at the same time.
Other teachers had fond memories of their classrooms, however uncommon the spaces.
Upper School English teacher Mr. Nathan Day, who joined the school in 2010, also enjoyed the small, shared spaces. "The fact that it was a house helped foster close, relaxed, familial relationships with students, and a sense that we were all in this work together. I also remember Joe Starnes' speech at the 2013 Valediction, about how he didn't want to leave Latin… and he's currently teaching and advising my 5th grade daughter Alice (whom I remember carrying into Decatur in her infant car seat one afternoon)."
Seventh grade Youth Empowerment Seminar and English teacher Mr. Joe Green started as an intern ("teaching fellow"), in September of 2007, becoming full-time the following year. His classroom was also cramped and occasionally uncomfortable. He had 22 students in each class, and one single window A/C unit to keep the place cool. In the sweltering heat of June and September, this was particularly hard. "Everyone was schvitzing, just drenched, including me," he adds, noting that "on the other hand, persevering through those conditions and still being able to teach and learn is what helped lay the groundwork for the community we have in Latin today."
Upper School English teacher Ms. Laurel Seid joined the school in 2010 in the Decatur library, before becoming Director of the Upper School the following year. She enjoyed the esprit de corps that grew from the non-traditional environments the school inhabited. She fondly recalls walking with students between the Allison and Decatur campuses, even in the rain, snow, cold and heat. She also enjoyed forming the school's redesigned Community Council and helping them write a constitution in the mildewy, windowless yellow room in the basement of Decatur, with the help of 2012 graduates St. Claire Detrick-Jules and Ingrid Medina, and 2013 graduate and current teacher Joe Starnes.
Still, when the time came to depart these eclectic spaces and consolidate all eight grades into a single campus on 2nd Street in 2013, teachers were thrilled to be starting a new chapter with spaces that offered a full service of activities. Sixth grade science teacher Ms. Teresa Dobler joined Latin in the fall of 2010. She remembers packing up the science room at the Upshur campus, excited to have storage closets in the new building and to have a room with a sink.
"At Upshur I would often send kids back and forth to the bathroom during labs for water and hand washing, so a sink was such an exciting upgrade!" remembers Ms. Dobler.
Now that we have been at the current campus for nine years, we have started to take the simple pleasures of this space for granted, but it is a pleasant reminder to take a walk through the memories with the teachers who made the move from the 16th Street campuses to this one at 2nd Street and see how the world of Latin has changed and grown.
Valete!
Peter T. Anderson


Head of School
A college counselor's work is never done. Just ask Ms. Crys Latham and Ms. Sayaka Smith.  The pair of high school counselors work tirelessly to make sure our Upper School students are prepared for and supported as they think about life after Washington Latin. Besides providing guidance during the college application process, they also help students consider other post-secondary options, including gap years. And they occasionally advise Latin alumni about graduate school. Ms. Latham was one of the key sources in the recent Legenda letter about our Washington Latin alumni continuing their education after college.
The college counseling program starts as early as ninth grade. The team visits English classes once a semester to explain how student GPAs work and preview options for honors and AP courses, community service, and clubs. The counselors advise students on building relationships and networking. All Upper School students, including those in their first couple of years, receive schedules for weekly visits by various college representatives. The college counseling team also publicizes details about summer enrichment programs, scholarships, local or virtual college fairs, and other resources to help support students in their journey. Their work is supplemented by Ms. Hope Foster's "Beyond These Walls" programming on career readiness.
An intensive (and comprehensive) search and application process ramps up in the fall of the Junior year, when students and parents are assigned an interview in the first semester for the Junior Portfolio, with over 80 questions designed to understand student interests and career goals and family needs. The counselors then schedule a meeting in the winter with each of the Juniors to review the questionnaire, and ask follow-up questions. Ms. Smith and Ms. Latham provide five to eight college recommendations for Juniors to review. After that they schedule a family meeting to cover the transcripts, GPAs, graduation plans, standardized testing, and an overview of the financial aid process. Junior Jumpstart class meets in quarter 4 once a week during study hall to help with the college research, college essays, resume drafting.
During the month of August before Senior year, students attend Application Boot Camp, with another round in September. Students can also schedule check-ins with their counselor for application and essay support. Several English teachers provide help with the essay writing and editing process.
In the fall, the counselors continue to focus primarily on the Seniors' applications, teaching a weekly Senior Seminar to provide additional support and guidance on time management and organization. Seniors are urged to schedule quarterly check-in meetings with their counselor, plus sign up for additional drop-in hours as needed. But the college counselors continue with Seniors even after acceptance letters arrive.  During the fourth quarter of Senior year, the counselors teach a weekly "Life After Latin" seminar, to focus on the upcoming transition.
Both Ms. Latham and Ms. Smith have a wealth of experience working in college admissions. Ms. Smith worked for nearly six years in admissions at Tufts University before joining Washington Latin this year. Ms. Latham worked at Oberlin, The College of Wooster, and  Ohio Northern. She also worked for two years during her undergraduate career in the admissions office at Mount Holyoke.
"As a first-generation [to college], low-income student, I wanted to create for Latin's students the kind of post-secondary advice I didn't get as part of a senior class of 471 students at my own high school," noted Ms. Latham. "Ms. Smith, who is also a first-generation college student, values the kind of work we are doing here, so she wanted to be part of our team as well."
Valete!
Peter T. Anderson


Head of School
In late February 2020, I was in Park City, Utah participating in a week-long convening as a part of my fellowship with the Pahara Institute. Leaders from across the country were gathered together to discuss topics related to equity, innovation, and educator sustainability. None of us were focused on the spreading coronavirus and cataclysmic events that would soon unfold. There were so many other more pressing issues and more relevant concerns from the presidential election scheduled for just over eight months from then to questions about college access to ideas for reimagining high school.
Even after returning to DC and after the WHO characterized the outbreak as a pandemic, few of us (as educator leaders and policymakers) expected that we would be directly impacted by this new virus. When we pivoted to online instruction in the third week of March, I remember us thinking that our lockdown would probably be for a couple of weeks and life would likely return to "normal" soon after spring break. As we look back two years later, after quarantines, isolations, shutdowns, closures, drive-by parties and funerals, and disruptions to learning, to the economy, and to family structure, I wonder how we could have been so naive.
How have the past two years changed us? Have any of those changes been positive? And, if so, can they be sustained? At a minimum, many of us have seen that it's possible to be resilient in a crisis. And people (including policymakers) now seem more willing to take mental health concerns seriously. As a result of recent investments by the city, we will soon have a new behavioral health clinician joining our team. Many of us have also learned how to practice self-care in new ways. Latin initiatives like our Wellness Days and early release days are likely here to stay. There seems to be a deeper understanding of and appreciation for the value of community and connection. Those outside our walls appear to have come to a realization that we have long embraced: "People matter." And, we at Latin have also accepted an important role that technology can play, as we have transitioned to a "one-to-one" school.
While we know that the pandemic is not over, we have seen sufficient progress (including in the rate of vaccination in our student body and the steady decline in positive new cases) to consider how we might begin to unwind some of the restrictions that we have had in place for the past two years. We will discuss this in more detail at next week's Latin Cafe.
There is also much to look forward to this spring. Our Council on Diversity and Equity (CODE) will resume meetings after spring break, so please let me know if you are interested in being a part of the work of this team. We are also looking for hosts for both in-person and virtual Bacchanalia parties, critical for us to raise money for our Faculty Fund; we hope to get many volunteers. Finally, we are honoring some important milestones in the life of our community including a 10-year alumni reunion for our first graduating class and a celebration of our Sweet Sixteen year.  We look forward to these opportunities to celebrate this Spring.
Valete!
Peter T. Anderson


Head of School
Latin in the News
Read the latest media stories about our school.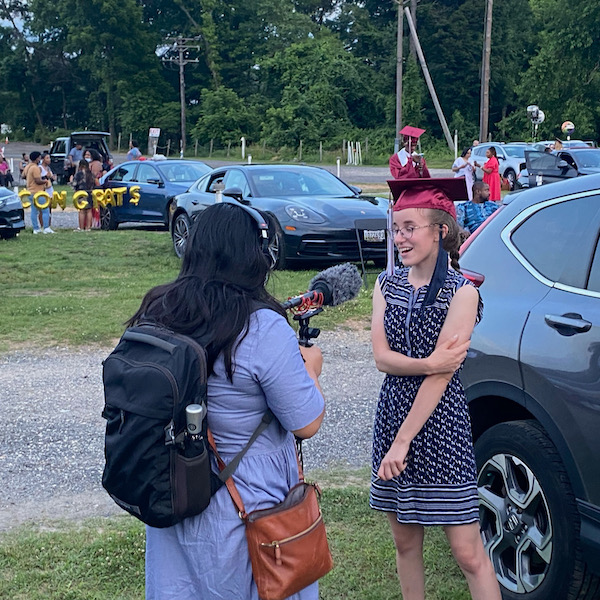 High School Graduations Brought Joy This Year, Even If They Weren't Back To Normal