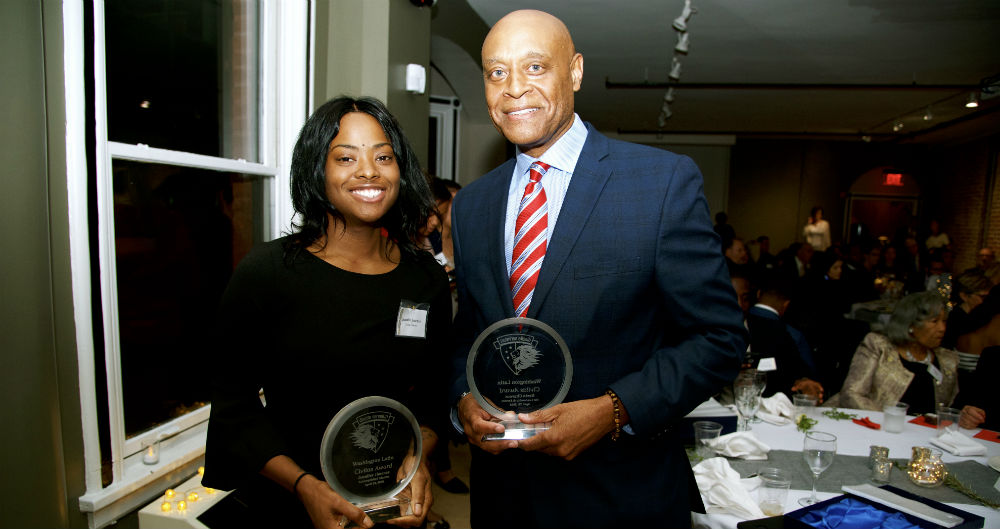 Thank you for joining Convivium!
April 26, 2018
All of us at Washington Latin were delighted to host our second annual Convivium de Civitate – A Celebration of Washington Latin at the National Union Building on April 26th. This event once again brought together a community of friends, supporters, and those new to Washington Latin to learn about our history, the unique Washington Latin model, and our plans for the future.
In addition to celebrating the school, we honored two members of the community with the Washington Latin Civitas Award for Leadership and Service to Kevin Chavous and to Alumna Jennifer Jimenez. Read more below!
Congratulations to both honorees!
Thanks to our sponsors!
Our generous sponsors helped to make this event possible and support the Latin Faculty Fund.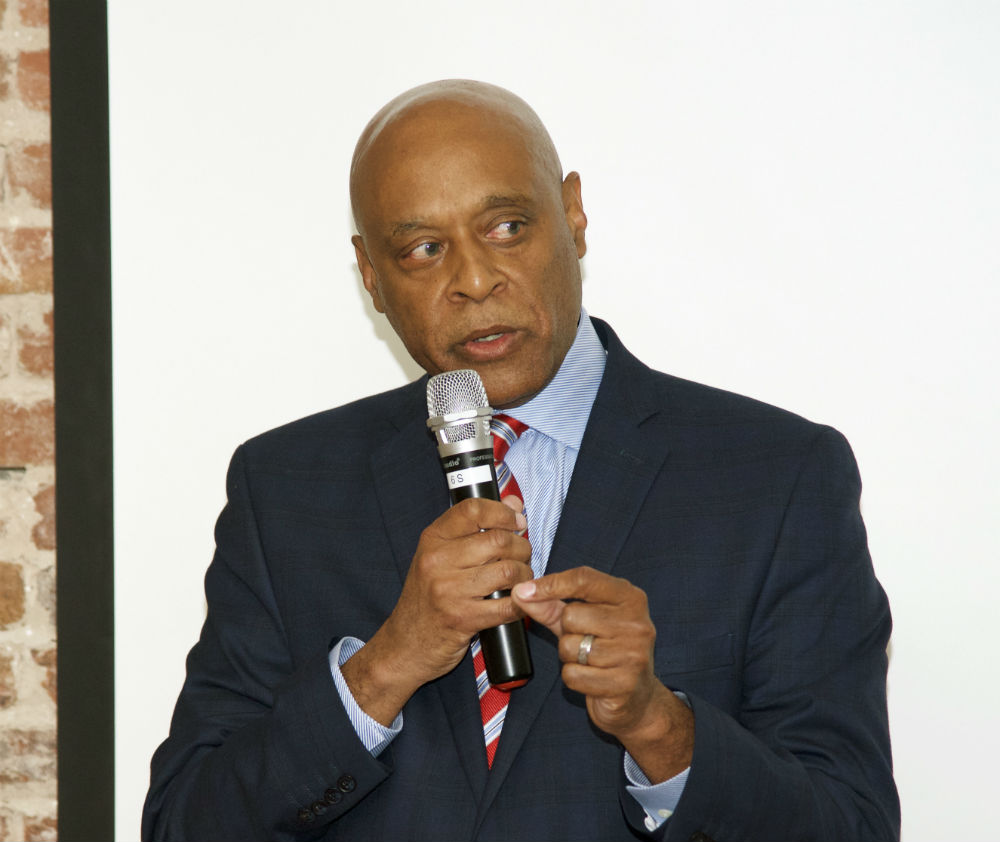 Kevin Chavous
2018 Washington Latin Civitas Award for Leadership, Service and Citizenship
Mr. Chavous, who served as board president in the very early years of the school, was honored for his impressive record of public service and leadership with many notable accomplishments in K-12 education reform. His career – including serving three terms between 1992 and 2004 in the DC City Council, as the Council's Education Committee Chair, and now as President of education technology company K12, Inc. – has focused on empowering families by providing educational choices. He is passionate about improving opportunities for children of all backgrounds and circumstances. His work in DC government was instrumental in launching its now-vibrant charter sector, which offers a wide range of choices for families across the District. Nearly half of all public-school students in DC attend charter schools, including Latin.  Mr. Chavous' belief in providing educational options to families through charters is what led him to take on the role of Board President for the young Washington Latin in 2006. Mr. Chavous saw then the promise of our school, offering a rigorous, classical education to students from across DC and committed to bringing that to fruition, helping to translate a lofty vision into a reality.
At Washington Latin, we often look to role models whose lives and work can demonstrate the core values we aspire to instill in our students. We recognize that the work of Mr. Chavous made it possible to dream of a school like ours. His exceptional work for us and as a thought leader in education make him a model of civic service and leadership, values we hold dear at Washington Latin. On behalf of our entire community, we are very proud to bestow this Washington Latin Civitas Award to Mr. Kevin Chavous.
Jennifer Jimenez
2018 Washington Latin Civitas Award for Accomplished Alumna
Jennifer is one of our alumni who was part of our second graduating class in 2013. She came to Latin in 7th grade because her father wanted to ensure that she had the kind of education that would serve her throughout her life and also give her a chance to establish a new community. In her time at Latin, we came to know and love Jennifer as a young woman who could overcome personal adversity,  accomplish her goals, and remain positive in the moment and about the future. She thrived at our school and has noted that she "could not hide" at Latin, and that helped her stay focused on her studies. She went on from here to Livingstone College and is headed to get a Masters degree in Sports Management at the University of North Carolina in the fall. She is looking to the future, aiming to someday own a sports team herself. We are proud of Jennifer's accomplishments and look forward to seeing what she does next.
On behalf of all of us in the Washington Latin community, we are pleased to honor Jennifer with the Washington Latin Civitas Award for our accomplished alumni. We hope that she continues to pursue education and a life that is full of challenge, meaning, and joy.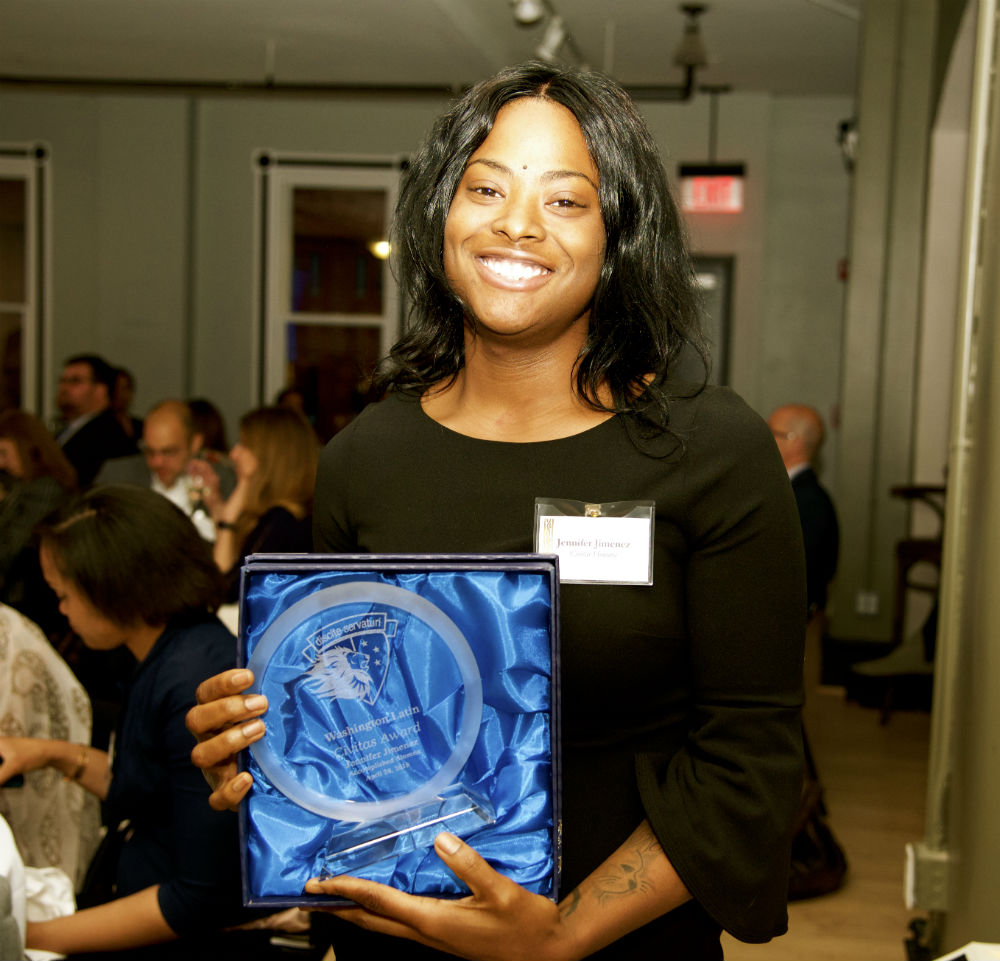 Support our Faculty Fund!
Please donate to the Latin Faculty Fund. Simply put, this fund helps us recruit, develop and retain our excellent teachers. We use the fund to provide stipends for additional work teachers perform, such as curriculum development or working with colleagues who are new to teaching. The fund also provides money for professional development activities, both on- and off-campus. There is no factor more important in the success for every student at Latin than our teachers. Support us today!
You can use the button to make an online donation, or mail this form with a check. Questions? Please email Kate Cromwell, Director of Development & Communications.