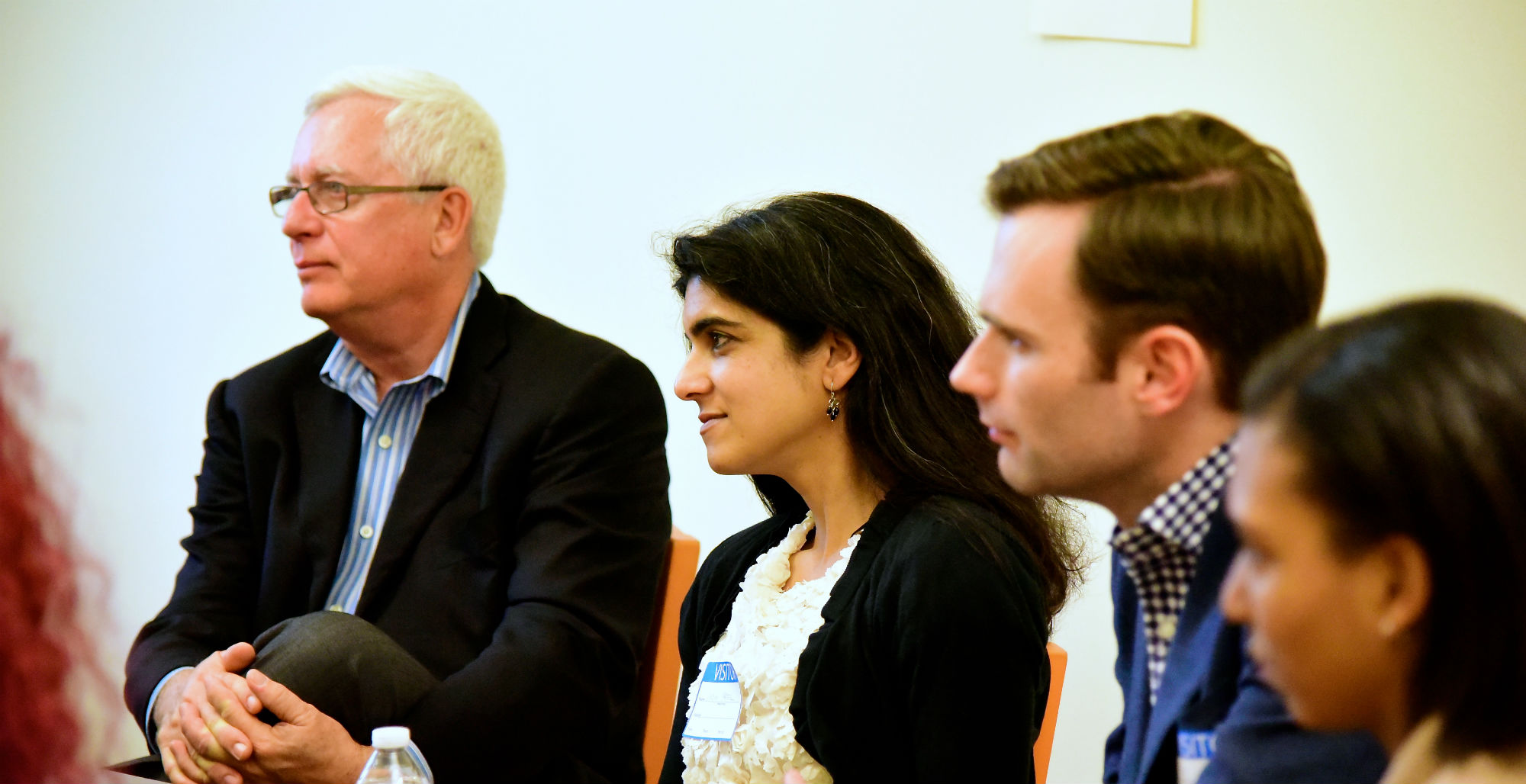 Charter Authority in DC
Washington Latin Public Charter School is authorized by and accountable to the District of Columbia Public Charter School Board (
DCPCSB
). This board evaluates all DC public charter schools for academic results, compliance with applicable local and federal laws, and fiscal management.  We are held accountable to the PCSB for our results and the goals established in our charter agreement. Washington Latin is ranked Tier One (see
Our Results
for more detail).
Washington Latin Board of Governors
Washington Latin is governed by an all-volunteer board, responsible for oversight of the school's academic and fiscal well-being. Our Board of Governors is comprised of a maximum 15 members.  The Board currently includes four parents of Latin students, who bring this important perspective to our discussions about the school's current work and future direction. There are seven Board-led committees, and the full Board meets eight times per year.  If you have questions about the board, please contact
Peter Anderson
, Head of School, or
A.E. Lovett
, Board President.
Ann Elizabeth Lovett, President
Ann Elizabeth (A.E.) Lovett works for Fauna & Flora International (FFI), a wildlife conservation organization based in the UK, and is responsible for FFI's US foundation portfolio. Prior to joining FFI, A.E. worked for over 20 years in legislative affairs and communications across a range of industries. She edited publications from The Electronic Banking Law and Commerce Report to The China Business Review, and worked in legislative affairs at Alston & Bird, the Investment Company Institute, and the Environmental Technology Council. A.E. graduated from Dartmouth College with a degree in government/Asian studies, played varsity ice hockey for four years, and was a member of Cabin & Trails. Before moving to Washington in the late 1980s, A.E. worked in Hong Kong and Beijing in business consulting and the travel industry.  She went to high school in rural Ohio and was an active 4-H member. A.E. has coached ice hockey for over 20 years as well as soccer and t-ball. She and her husband Steve are founding parents at Latin, serving on its first Parent Association and Board of Governors respectively, and both of their children have attended Latin.  She joined the WLPCS Board of Governors in December 2013.
Christopher Wilkinson, Vice President
Christopher Wilkinson is a partner at Orrick, maintaining a broad practice in labor and employment, Equal Pay, health and safety, government relations and administrative law. Chris most recently served as Associate Solicitor for Civil Rights and Labor-Management. In that role, Chris was the senior career civil rights and labor management lawyer for the Department of Labor providing advice on regulatory, policy and enforcement matters for seven DOL agencies including the Department's Office of Federal Contract Compliance Programs, Civil Rights Center and Office of Labor Management Standards. Chris is an active member of the America Bar Association, having presented on numerous federal contractor compliance, LGBT and compensation discrimination topics at the ABA Conference on Equal Employment Law.
Timothy Morgan, Treasurer
Tim Morgan has broad experience in matters of risk management and governance, quality, and finance gained from over 35 years as auditor, advisor and Board leader. He retired as a partner with PricewaterhouseCoopers LLP in 2014, having served as the firm's Public Sector Risk and Quality Leader and as an auditor and advisor to federal agencies and diverse public and private companies. PwC's Public Sector Practice won the Malcolm Baldrige National Quality Award in 2014. Tim served for eight years on the Board of Trustees of the American Kidney Fund (kidneyfund.org) and was Board Chair and Chair of Audit Committee. Tim is a graduate of the University of Virginia's McIntire School of Commerce and is a Certified Public Accountant. Tim joined the board in September 2015.
Kimberly Cole, Secretary
Kimberly Cole is an attorney with concentrations in employment and education law at United Educators.  She provides strategic advice to K-12 schools and higher education institutions navigating complex litigation matters and negotiates the resolution of high liability exposure cases.  She manages high profile litigation with far-reaching implications for educational institutions. Previously, Kimberly was an associate at a litigation boutique where she represented financial institutions in employment law and commercial litigation matters.  Kimberly has served as an adjunct professor at local DC universities, teaching undergraduate and graduate courses.  Kimberly earned her B.S. in Accounting, summa cum laude, from North Carolina A&T State University, her J.D. from the University of North Carolina at Chapel Hill, and her Master of Professional Studies in Strategic Human Capital Management from Georgetown University.  She is a certified Senior Professional in Human Resources. Kimberly joined the board in October 2016.
Christina Culver
Christina Erland Culver is a leader in the education technology industry, and advocacy expert for non-profits advancing next generation learning. In 2009, she founded C/H Global Strategies, LLC to provide strategic counsel to companies and non-profits seeking to navigate complex federal and state education policy to solve K-12 education's most pressing needs. Christina gained her expertise working in senior positions at the U.S. Department of Education, including Acting Assistant Secretary and Deputy Assistant Secretary of Intergovernmental and Interagency Affairs from 2003-2006 where she managed the relationship between federal and state governments regarding compliance issues surrounding the Elementary and Secondary Education Act. She also served at Education under Secretary Lamar Alexander in the early 1990s and at the White House for President George H.W. Bush in Presidential Personnel. In addition to government service, from 1998-2003 she was vice president of public affairs for Children First America, a national non-profit in support of school choice public policy. She serves on the Board of Directors for Living Classrooms National Capital Region. In 2009 Christina co-authored the book, Virtual Schooling: a Guide to Optimizing Your Child's Education. Christina is a recent graduate of the U.S. Naval War College with a Masters degree in National Security and Strategic Studies, and has a B.A. in Political Science from the University of Kansas. She joined the board in October 2013.
Ragini Dalal
Ragini Dalal has worked in international development for over 20 years, from grassroots non-profit work to policy and corporate settings. She has lived and worked in Africa, Russia, and the Middle East. Ragini is currently a lead strategy and operations officer at the World Bank and is responsible for monitoring global investments in projects which provide access to water and sanitation to the developing world. Other positions she has held at the World Bank include deputy to the country director in Kenya overseeing an office of over 100 staff and a $2 billion portfolio of investments, and as an advisor to the World Bank's Board of Executive Directors. Prior to the World Bank, Ragini worked as an advisor at the Harvard Institute for International Development working on the privatization program in Russia and with various DC-based NGOs. Ragini's two children have both attended Latin. She has been active in DC public schools and the charter school movement since 2001 as a parent and serving in a variety of voluntary positions, and is a member of the Charter Board Partners network. Ragini holds a Bachelor of Arts from Colgate University and a Master of International Affairs/Economic Development from Columbia University. She joined the board in July 2015.
Maria Demeke
Maria Demeke is a Senior Manager with Deloitte's Human Capital Management practice.  Maria has 15 years of experience leading advisory projects for private, non-profit, and public sector agencies in South America, Africa, the Middle East, Western Europe and the United States. She has led large, complex organizational transformations for multi-lateral organizations, bilateral donor organizations and financial institutions. Her functional experience focuses on organizational design, strategic planning, capacity building and change management.  Maria is a 2006 Council of Women World Leaders Fellow, selected as a 2013 Aspen Institute ICAP Fellow, and a member of Deloitte's Emerging Leaders Development Program.  She holds a MPP in International Trade and Finance from Harvard University Kennedy School of Government, and a BA in Psychology and Africana Studies from the University of Pennsylvania. She is the mother of Liam and Neva and resides in Ward 5.
Alexandra Economou
Alexandra Economou is a teacher at Wakefield High School in Arlington, Virginia where she teaches English as a Second Language. Prior to joining Wakefield, she worked as the Director of College Partner Relations at Center for Student Opportunity, a national non-profit empowering first-generation students to and through four-year universities and colleges. Previously, Alex helped launch the higher education division of the Advisory Board Company and taught at Elsie Whitlow Stokes Charter School in Washington, DC and Athens College in Athens, Greece. Alex is a graduate of Princeton University, where she majored in history and completed a thesis on the history of the SAT. She holds a master's degree from the Harvard Graduate School of Education with a focus on Education, Policy, and Management and will complete her second Masters in Education with a focus on Secondary ESL Education in spring 2017 from George Washington University. She is a native of Old Town, Alexandria where she lives with her husband, Rusty, and son, Leo. Alex joined the Board in October 2012.
Alyse Graham
Alyse Graham is a teacher and lawyer with broad public sector experience.   Alyse graduated from Yale University and received her law degree from Stanford Law School.  She served as a prosecutor for the U.S. Department of Justice and the U.S. Attorney's Office for the District of Columbia, and she has taught criminal law and criminal procedure at George Mason University Law School and American University School of Law.  Five years ago, Alyse joined Teach for America and became a teacher at Everett Middle School in San Francisco. She taught science and social studies in both Spanish and English as part of the school's dual immersion curriculum, and served on the school's Parent Engagement Committee.  Alyse has also served on the Superintendent's Committee on Equity for the San Mateo Foster City School District and consulted to Amplify, a national curriculum developer, on a new NGSS-aligned K-8 science curriculum. Alyse is a native Washingtonian who lives here with her husband and three children. 
Russell (Rusty) Greiff
Russell (Rusty) Greiff is Senior Vice President and Regional General Manager for 2U, Inc., which partners with colleges and universities to deliver digital education. In this role, Rusty oversees a number of 2U client partnerships including directly overseeing 2U's new partnership with Vanderbilt's Peabody College of Education and Human Development for its online Master of Education in School Counseling and an online Doctorate in Education in Leadership and Learning in Organizations. Rusty had been a Managing Partner with 1776, a global incubator and seed fund helping startups transform a range of industries—education, energy & sustainability, health, transportation and cities. He remains a partner in 1776's Seed Fund and serves as a senior advisor to 1776 on global innovation and edtech initiatives. While at 1776, Greiff expanded 1776's global strategy, oversaw 1776's global education platform of over 100 edtech companies, and lead its innovation work with university presidents and provosts. Greiff also headed 1776's venture investments in leading edtech companies in higher-ed workforce development.
Rusty served previously as Chief Strategy & Development Officer and co-founder of San Fransisco-based Learnist, one of the fastest growing social learning and curation companies in the country with over 25 million global users. With the same venture team and investors including Benchmark Capital and GSV Partners, Rusty was a founding executive team and Board member of Grockit, a pioneering social and adaptive learning company serving over 5 million students globally that was acquired by Kaplan Test Prep in August, 2013. Before joining the Grockit/Learnist team, Rusty held senior online learning, executive corporate development, President/GM operating positions with Educate, Inc. one of the largest supplemental education companies in the U.S., including Sylvan Learning and Catapult Learning. Prior to his work in the start-up sector, Rusty held senior executive positions at Sylvan Learning and USA Interactive, and has worked on national education policy issues for Senator John Kerry in the Senate Democratic Policy Committee.  In 1993, Rusty was a member of the original team at the Corporation for National and Community Service that launched President Clinton's AmeriCorps program.  In addition to serving on numerous national for-profit and non-profit boards, Rusty has lectured on disruptive educational innovations at major universities including Harvard, University of Pennsylvania, and M.I.T.  Rusty received his B.A. magna cum laude, Phi Beta Kappa, at Washington University, St. Louis and his M.B.A from Harvard Graduate School of Business.  He has also completed coursework at London School of Economics and is a recipient of the Coro Fellowship in Leadership.  Rusty and his wife Elizabeth live in Washington, D.C. with their three boys Theo (a student at Latin), Noah and Isaak. He joined the board in October 2013.
Patrick Mara
Patrick Mara is Executive Director of the DC Republican Party. Prior to his position at the DC GOP, he was elected to the DC State Board of Education (SBOE) in 2010 and served a four year term representing Ward 1. During this period, Patrick also focused on small business development and related consulting. He previously worked on Capitol Hill for the late Senator John H. Chafee (R-RI); at the U.S. Department of Energy as a contractor; and later lobbied both the Legislative and Executive branches of the Federal government for seven years. Over the last decade, Patrick served on the Boards of numerous local non-profits devoted to supporting the educational needs of District children and long-term tutored and mentored a number of DC Public School students. Before earning an entrepreneurship-focused MBA from Babson College, Patrick graduated from Marist College where he is a past President of the Alumni Executive Board and past Board of Trustees alumni representative. He and his wife live in the Columbia Heights neighborhood of Ward 1 with their two sons. Patrick joined the board in March 2015.
Hunter R. Rawlings
Hunter R. Rawlings III is the interim President of Cornell University, his third turn as the University's leader. Until July 2016, Hunter served as the President of the Association of American Universities, a position he took in 2011. Prior to this position, Hunter served as president of Cornell University from 1995 to 2003, and as interim president for one year between 2005 and 2006. He served as president of the University of Iowa from 1988 to 1995.
As president of Cornell, Hunter provided strong support for continuing to increase student diversity and for Cornell's need-blind admission policy, which was made permanent during his tenure. He also renewed Cornell's emphasis on the importance of undergraduate teaching, setting an example by teaching an undergraduate course in the Department of Classics during the last two years of his presidency. Hunter set strategic scientific priorities for Cornell, resulting in, among other things, the Cornell Genomics Initiative and New Life Sciences Initiative. Hunter also reorganized the biological sciences on the Ithaca campus and set in motion the plans for constructing a pioneering facility for life science technologies. At the same time, he provided additional support for the programs in the humanities and social sciences at Cornell, recognizing their critical significance for the future of human societies in a rapidly changing scientific and technological environment.
While president at the University of Iowa, Hunter chaired the Governor's Commission on Foreign Language Studies and International Education from 1988 to 1991. He also oversaw major research enhancements, particularly in the Life Sciences and the College of Medicine. Prior to the University of Iowa, Hunter spent 18 years at the University of Colorado at Boulder, where he was a faculty member, Chairman of the Classics Department, Associate Vice Chancellor for Instruction, and then Vice President for Academic Affairs for the University of Colorado system.
A national spokesperson for higher education, Hunter has served as chair of both the Association of American Universities and the Ivy Council of Presidents. He is a member of the American Academy of Arts and Sciences, and he serves on the boards of the American School of Classical Studies in Athens, Haverford College, and the National Academy Foundation. Born in Norfolk, Virginia, Hunter graduated from Haverford College with honors in Classics and received his Ph.D. degree, also in Classics, from Princeton University. His scholarly publications include a book, The Structure of Thucydides' History (Princeton University Press, 1981). Hunter joined the board in September 2015.
Talhia Tuck
Talhia T. Tuck holds the position of Associate Director of Admissions at Georgetown University.  She received her J.D. from Harvard Law School and her A.B. from Harvard College.  Prior to her position at Georgetown, she was the Vice President for Communications & Investor Relations for Star Scientific, Inc., later renamed Rock Creek Pharmaceuticals, where she was responsible for coordinating communications with shareholders, potential shareholders, the financial community, members of the media, and other groups. Immediately after law school, Talhia participated in the Ropes & Gray New Alternatives Program as a fellow at the Office of the State's Attorney for Montgomery County, Maryland, and subsequently worked in the Corporate Department at Ropes & Gray in Washington, DC.
Before attending law school, Talhia worked as an admissions officer for Harvard College at Harvard University, where she evaluated applications, interviewed applicants, and traveled extensively throughout the United States representing Harvard College. Immediately after graduating from college, Talhia worked as a financial analyst at Goldman Sachs in the Investment Management Division, and subsequently worked as a journalist with MSNBC, NBC News, ABC News, and the CBS affiliate, WINK-TV.
Talhia is an elected member of the Executive Committee of the Harvard Law School Association (HLSA), participates on the Schools and Scholarships Committee for Harvard College through the Harvard Club of Washington, DC, and is an active alumna of the National Cathedral School for Girls. She joined the board in July 2015.
John Davis, President Emeritus
John Davis is a Managing Director with Evolvent, where works with leading health systems nationally to develop and execute comprehensive solutions to support their value-based care platforms. John has over 10 years of experience working with senior executives at hospitals and health systems nationally to advance their strategic, clinical, and capital plans. Prior to joining Evolvent, John was a Regional Manager at a national healthcare real estate development firm where he was responsible for managing business operations and growth for the Eastern United States. Previously, he served in various positions at The Advisory Board Company, supporting health system executives nationally. He received his BBA in International Business form the University of Georgia, where he graduated with Honors. John, his wife and two daughtersvare very happy to be part of the Washington Latin community. He served on the board from August 2011 through June 2017, including a term as President for the 2016-17 school year.